We will be updating this page on an ongoing basis with the information available for polling place lookup via the iWillVote API.
This integration allows you to connect your activists to their polling locations (early vote, ballot drop off and polling) via mobile ladders. Access this feature by setting up a ladder and selecting the Wait for Address via mobile response, Find Polling Place and Store step. To learn more about this feature, click here.
Note that this feature is only available in the US, and it's only available to mobile partners (for more on partnerships, click here).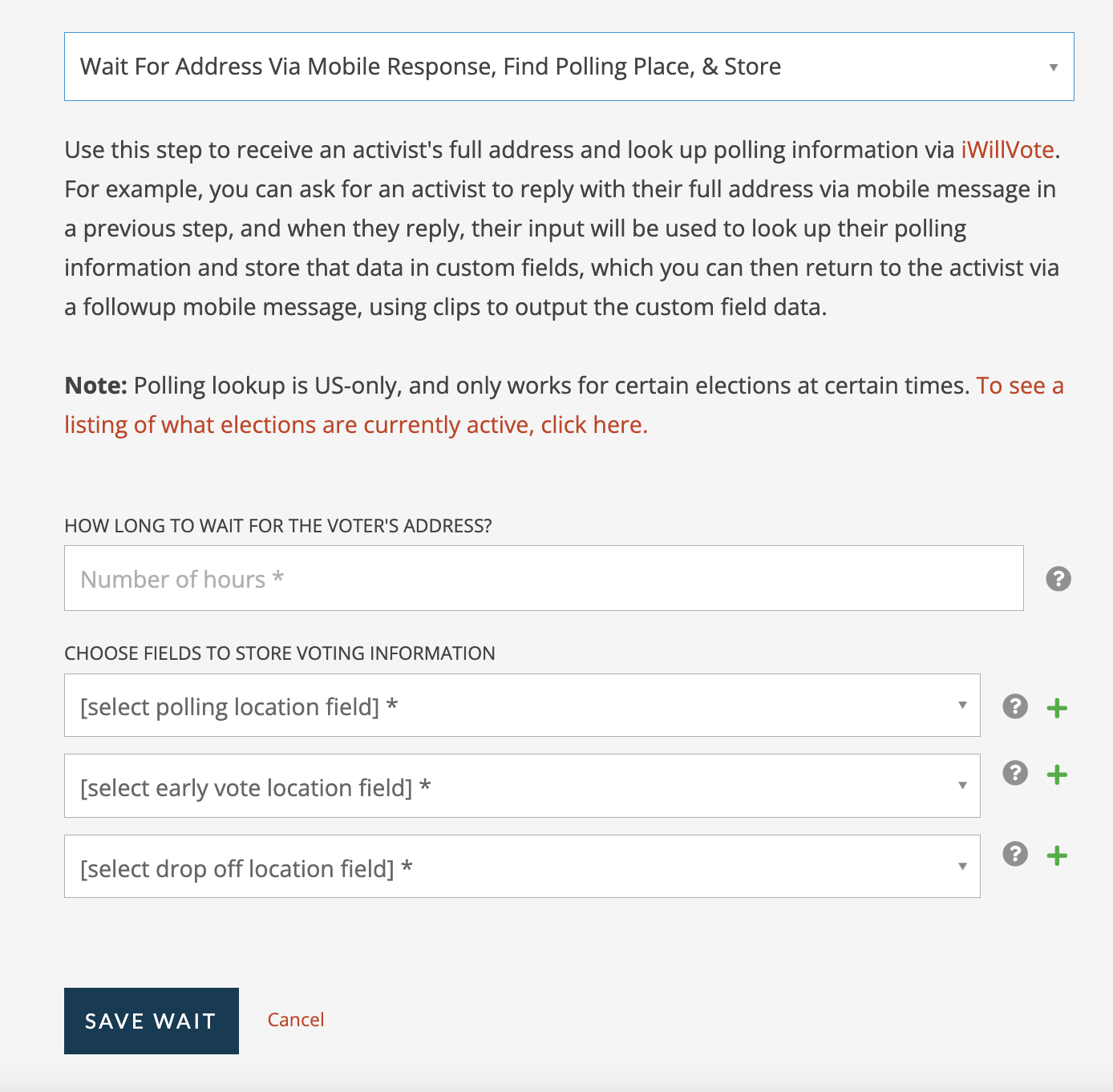 Data will be available on an ongoing basis, please check back here if you have questions about which races are live on the API. This means that we'll only be returning polling location info for the below states and elections, anyone who lives outside of these areas will not have polling location information stored.
Current data available as of 11/4 -- IWillVote now has all available location types active!
| | | | |
| --- | --- | --- | --- |
| State/race | Early Vote | Dropbox | Election Day |
| AK | X | X | X |
| AL | | | X |
| AR | X | | X |
| AZ | X | X | X |
| CA | X | X | X |
| CO | X | X | X |
| CT | | | X |
| DE | X | | X |
| DC | X | X | X |
| FL | X | | X |
| GA | X | X | X |
| HI | X | X | X |
| ID | X | X | X |
| IL | X | X | X |
| IN | X | X | X |
| IA | X | | X |
| KY | X | X | X |
| KS | X | | X |
| LA | X | | X |
| MA | X | X | X |
| MD | X | X | X |
| MI | X | X | X |
| MN | X | | X |
| MO | X | | X |
| MT | X | | X |
| ME | | X | X |
| MS | | | X |
| NE | X | X | X |
| NV | X | X | X |
| NH | | | X |
| NJ | X | X | X |
| NM | X | X | X |
| NC | X | | X |
| ND | X | X | X |
| NJ | X | X | X |
| NY | X | X | X |
| OH | X | X | X |
| OK | X | | X |
| OR | | X | |
| PA | X | X | X |
| RI | X | | X |
| SC | X | | X |
| SD | X | | X |
| TN | X | | X |
| TX | X | | X |
| UT | X | X | X |
| VA | X | X | X |
| VT | X | X | X |
| WA | X | X | X |
| WI | X | | X |
| WV | X | | X |
| WY | X | X | X |