You can see a list of all events that are currently hosted as part of your event campaign and manage each event on your event campaign's manage page. You can view a list of all event hosts by clicking Create Host Report at the top of the event campaign's manage page.
A list of basic statistics, including number of events hosted and number of RSVPs is in the upper right corner. To view every event, click the "Manage Events" tab underneath the main section. There you will find a list of every event's title (with a link to that event's RSVP page), the location of each event, who is hosting it, when the event occurs, whether it is private or not, whether it has yet to happen (upcoming) or has already happened (passed), any sponsors, and a count of RSVPs. Click the mail icon to email each host individually using your device's email program.
To manage each event, click the "Manage" button. This will allow you to jump into the event and edit it as if it were your own. Click the "Remove Event" button and confirm your choice to remove that event from your event campaign.
Note that removing an event does not cancel the event -- events are owned by the host, not you. It removes your group's name as the sponsor of the event, removes the event from your event campaign's search page, stops adding activists who RSVP to your group's email list, and generally turns the event into a normal standalone event.
Adding events
If one of your hosts accidentally made their event outside of the event campaign, you can add it to your event campaign after it's published. Scroll down to the 'add event to event campaign' section, and copy/paste the link to the event's RSVP page in the field. The link should look something like https://actionnetwork.org/events/amys-dog-walking-party . Click 'invite', and the host of the event will receive an email to approve or decline the addition of their event to the event campaign.
Note that any RSVPs collected before the event is added to the event campaign will not be retroactively added to the event campaign. RSVPers will need to RSVP again, or you can upload a list of previous RSVPs you've received from the event host and target that upload in your emails and reports.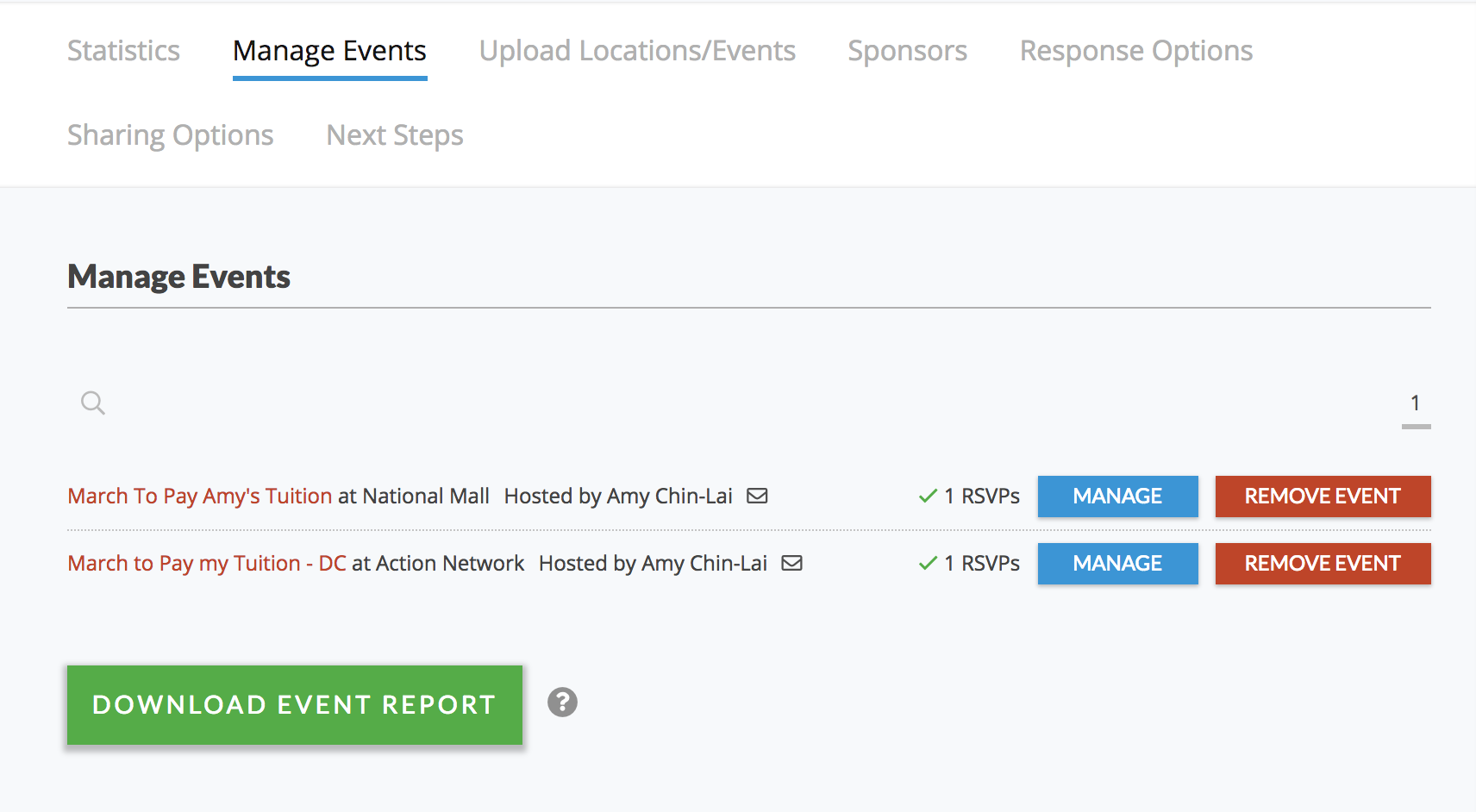 You can also download a report on all events in your event campaign with the event's details such as start and end time, host contact info, privacy status, sponsors, and publication status by clicking the button at the bottom of the event list.