2-factor authentication adds an extra layer of security to your account. After you enroll, instead of logging in with just your password, you'll be also asked for a code from the 2nd factor (typically your phone, via an authenticator app or SMS text message) or verification through a hardware key before you'll be able to log in. This way, if someone steals or guesses your password they won't be able to log in to your account, as they'll still need that 2nd factor authentication to log in. You can learn more about this here.
You can enable 2-factor authentication by clicking the icon in the upper right corner of the screen while you're logged in and clicking Edit Your Profile. You can then click the Enable 2-Factor Authenthentication button.
After you click this, you'll be given the option to choose a verification method through an authenticator app or SMS. Action Network recommends using an app as this is the most secure method.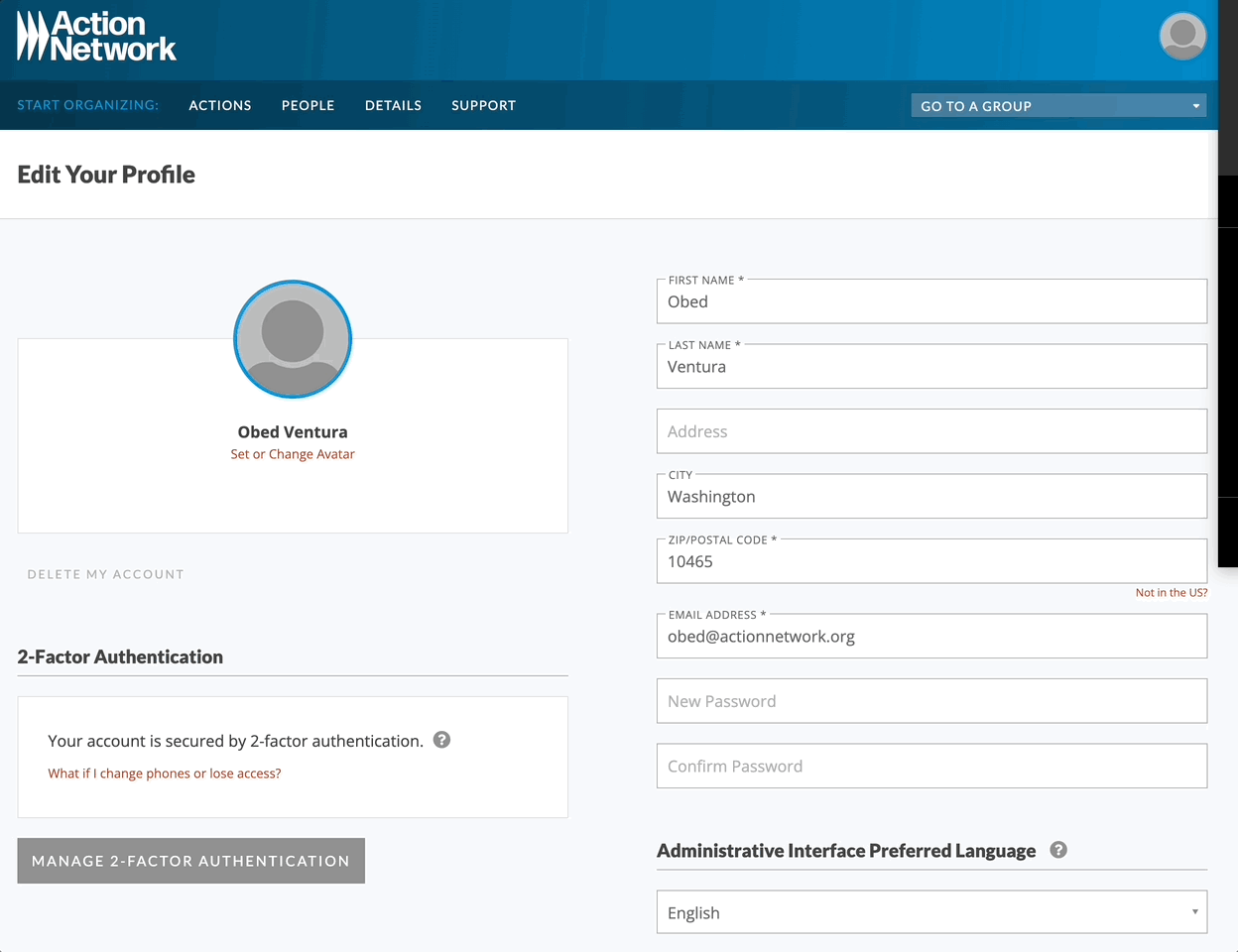 If you select a physical device as your authentication method, you'll be able to link your hardware key to your Action Network account. Hardware keys are physical keys that can be plugged into your device and used to verify your login. This is the most secure authentication option. Give your device a unique label to know which one you should use to log on in the future. You'll be prompted by the browser to plug in your key and verify your log in and set up. This will fully enable your account with two-factor authentication.
If you select verification via SMS, you'll be asked to enter your mobile number. After you enter your number, you'll be prompted to enter your password. Next, enter the six-digit verification code you receive via SMS. This will fully enable your account with two-factor authentication.
If you already have one of the above methods enabled, you can click the Manage 2-Factor Authentication button to add an additional verification method. Click the trash icon next to a method to remove it. To disable 2-factor authentication entirely, remove all authentication methods from this page. You'll need to enter your current password to enable or disable two-factor authentication.
You'll receive a notification via email regarding any changes to your 2-factor authentication.