Action only fields allow you to create fields that are linked to specific actions. The data collected here lives in the action, not the Activist Record. This is useful if you want to collect certain types of one off data, like t-shirt size, you need for a specific action, but don't want living in the Activist Record. You can create an action only field from the Visual Form Builder.
If you're in a network that has locked down questions and custom fields, action only fields allow you to create new questions for specific actions without reaching out to a parent group for access to do this. If you're in a group that has disabled blank questions in the form builder from the Settings tab, any blank questions you make will be action only fields. You'll still be able to create normal questions by prebuilding them in the Questions and Custom Fields page, under the Details menu.
First, open the Form Builder and select a question type under Blank Questions. Drag this into your form. Next, you'll add a name, label, and response options if needed for the question.
Next, tick off the Action Only Field check box and click Save. This will create the question and link the field to the action.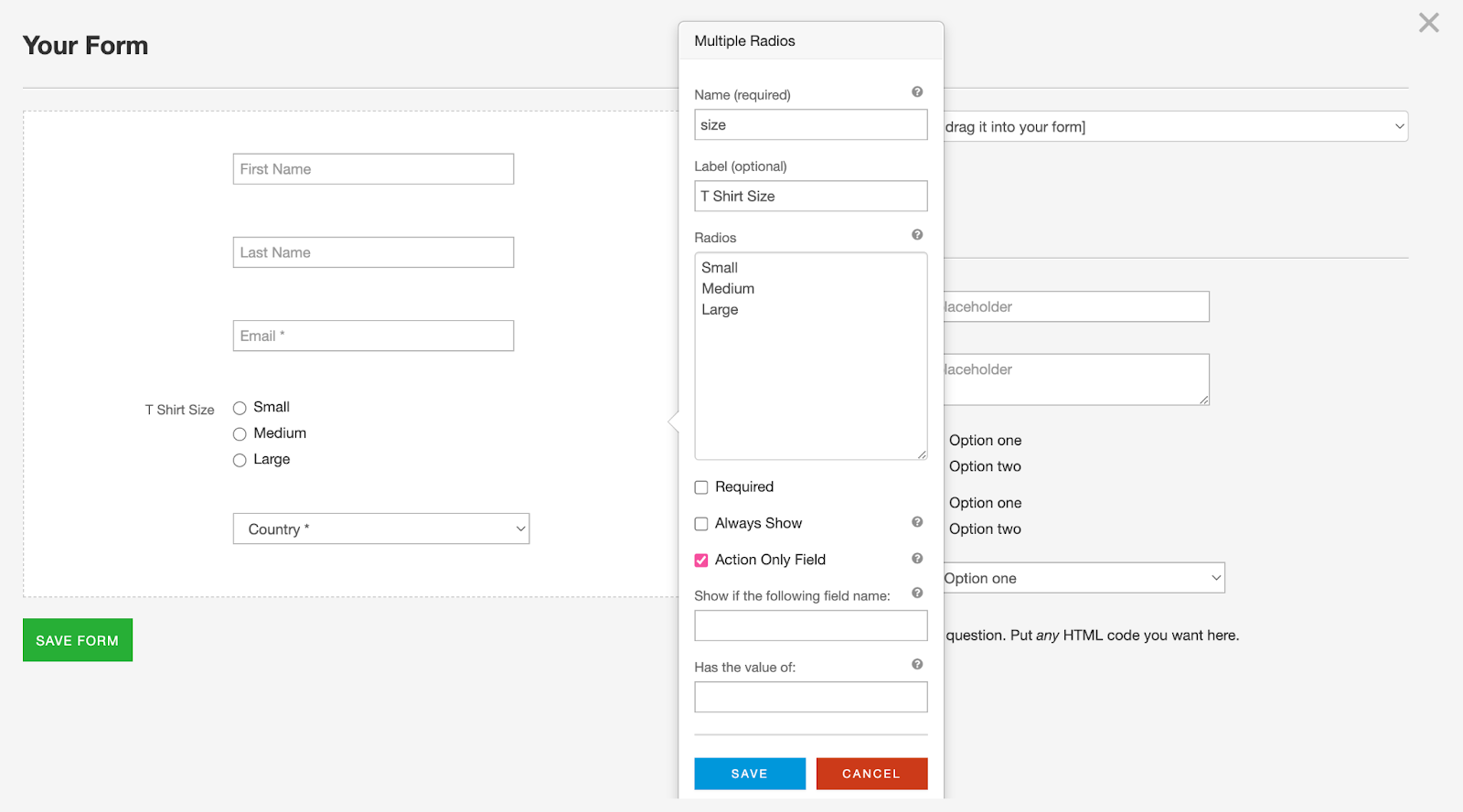 You'll be able to pull reports on the data in this field directly from the Action Manage page. If you want to use standard reporting, you'll need to first select the specific action from the Actions drop down menu in the Report Targeting page. You'll see the option to select the action only fields on the following Choose Data page after you've done this.
You will be able to use this field in ladders if the action it's linked to is the trigger for the ladder. This will allow you to create decision steps based on this action only field. This field will not be available for use in Wait for Mobile Response and Store steps. For more on ladders, click here.
Note that the values pulled for action only fields will be from the first time someone fills out this form. This means if you publish a form (and thus submit the first action, which happens on publish for most action types) you will not be able to see action only field values on your own submission. But others who fill out the form will work as expected.