The tips we recommend in this article should be in addition to the steps you see here. When combined, these help you improve and maintain good deliverability.
Low-Medium Capacity Organizations
If your organization doesn't have a lot of capacity, automating strategies to improve your deliverability is a must! Welcome series, re-engagement/reactivation campaigns, and engagement targeting are great strategies to implement.
Simple Welcome Series
A welcome series is the best time to introduce someone to your organization and give them an idea of what kind of content to expect from you. You can automate this using our

Ladders

tool! In a welcome series, after someone subscribes to your email list, they'll receive an email one day later. The email gives the recipient more information about your organization. Then a few days later, the person receives another email asking them to sign a petition supporting your cause. You can see a step-by-step guide to creating a welcome series

here

.
List Segmenting: Engagement-Based Targeting
Smaller list sends that do well are a great way to improve your deliverability. The most efficient way to do this is with engagement-based targeting, where you only send your email to your most engaged activists.

You can do this by decreasing the number of emails to people who are less engaged. You would create an 'actives' query (like the one in Step 3) for your 60- or 120-day actives (which you choose depends on your list size and email frequency). You'll use that query when you send out most of your emails, so only your more engaged activists receive all your emails. If an email does

really

well or is

really

important, then you can click 'duplicate with exclude' and send it to the rest of your email list.
Reactivation/Reengagement campaign
A reactivation campaign automates the sunsetting policy for you. Using the Ladders tool, people will be triggered into the ladder each time they receive an email. After waiting a period of 120 days, we will evaluate if they have engaged (clicked, opened, or taken action) with any of our emails. If they have not, we will send them an email prompting them to re-engage. When people want your emails, they will let you know! If they still haven't engaged after seven days, we will send them a final email asking them if they want our emails before unsubscribing them from our list. Here's a step-by-step guide to setting up a reactivation campaign.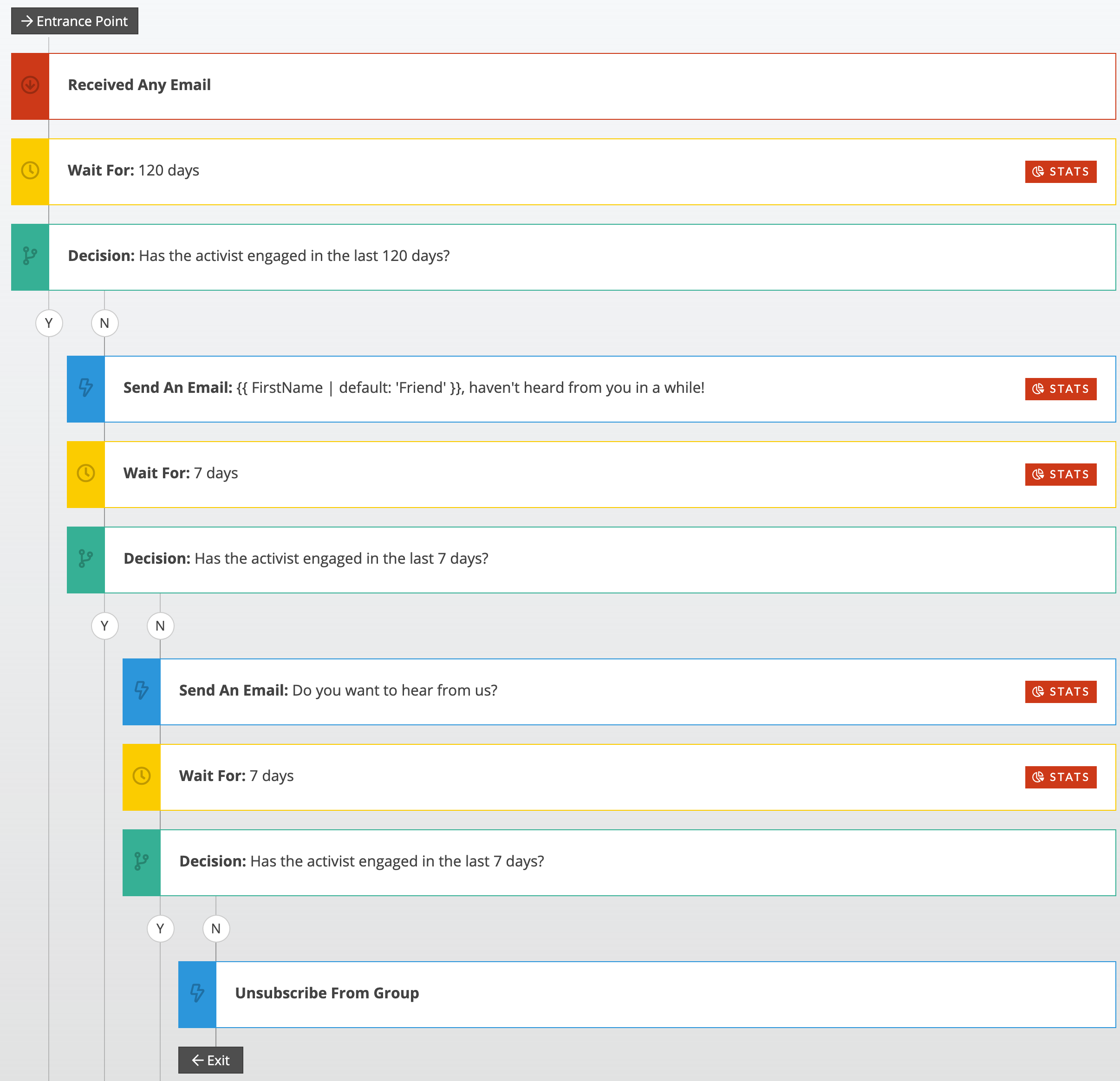 List Segmentation
The hard truth is that not everyone wants all your emails. I know — it's sad. There are a few ways to segment your list to cut down on full list sends and only send people content that is relevant to them:
By tags (topic, types of emails they like, etc.)

Do you work on several different issues? Segment by the topics you work on, like reproductive rights, climate change, and so on.

Do you send different types of emails? Create a specific sign-up and tag for your newsletter, rapid response, and/or fundraising communications.

By geography

Are some of your actions only relevant to people in certain areas? Target the email by state/province, county, legislative districts, zip/postal code radius, and more.
Medium-High Capacity Organizations
Do you have a larger team? Try out these tactics that require some more maintenance.
Advanced Source-Based Welcome Series
This is similar to the simple welcome series, but people receive different messages based on how they sign up. It's all about meeting your new subscribers where they're at and moving them up the ladder of engagement. Did they subscribe from a 'learn more' form on your website? Send them some more information about your organization. Did they subscribe from a 'volunteer' form? Send them resources to volunteer. Did they subscribe from a certain type of action, like a petition? Send them another ask, like writing a letter through a letter campaign.
Testing down the list
Create different tiers of actives and use the random limit to test each email to a portion of your first tier of most engaged people. If it does well, send it to the rest of the first tier and send it to a portion of your second tier of most engaged people. If that does well, send it to the rest of the second tier and a portion of the third tier and so on.
You can now automate testing down the list using the 'automate testing' feature, which will test how your email will perform among activists who were active on your list during different time periods, and send a "winning" email just to activists in those cohorts. More here.