The Responses tab appears on the manage page of all actions (not including event campaigns and campaign pages, which don't have autoresponders or redirects) and allows you to enter custom redirects for the page, turn on and off thank you emails, and customize the thank you email text. If you haven't customized these yourself, you'll see a yellow dot next to the Responses tab to indicate you're still using our default messages. The Responses tab for Call Campaigns are different, for more on that click here.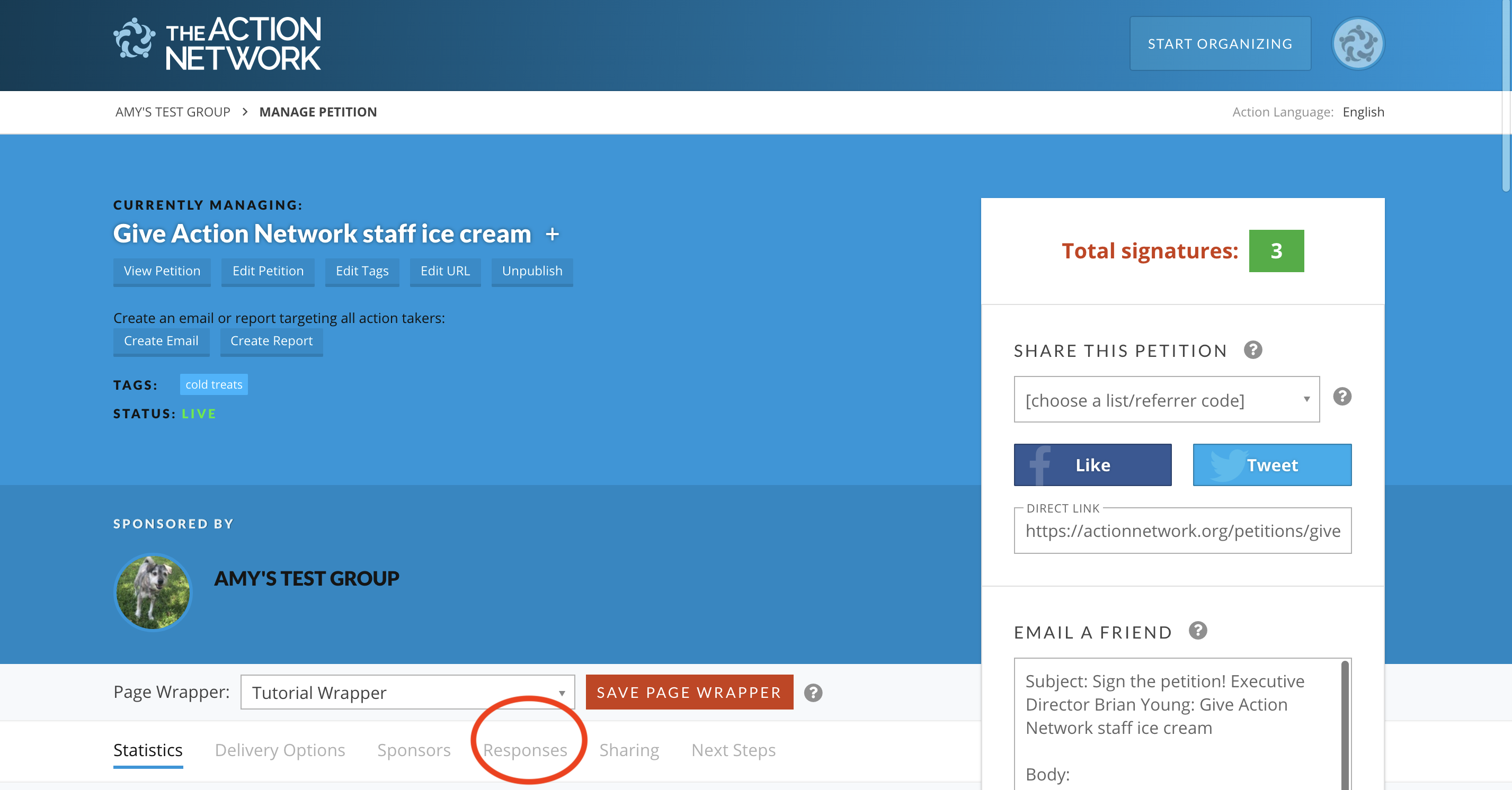 To redirect to another URL instead of our default thank you page after a user takes action on this page, enter the URL in the "Thank You Redirect Link" box and click "Save Responses" to save your changes. To go back to using our default thank you page, remove your URL and save.
To redirect to another URL after your action is unpublished instead of our default unpublished page, enter the URL in the "Unpublished Redirect Link" box and click "Save Responses" to save your changes. To go back to using our default unpublished page, remove your URL and save.
To disable our autoresponse thank you email when an activists takes action on this page, click the "Send an Email Response" box to turn it off, then save. To re-enable, click it again to activate and save. We'll notify you if you're using our default response so you have the chance to customize your autoresponse.
When the autoresponse is active, you can set an email wrapper for this autoresponse (choosing from wrappers available to the sponsoring group if there is a sponsor, or the individual action creator if there is no sponsor), edit our default autoresponse language, choosing your own subject line, from line, reply-to email, and body. We have clips available to output things like the Facebook share links and email a friend text that you've set in the Sharing tab, as well as action-specific clips like fundraising or ticketed event receipts, and calendar links for events and ticketed events. You can test your autoresponse email at the bottom of that section.
If you've set up a keyword for this action, you can enable a Mobile Message auto-response for people who took action by texting in the keyword. If this is enabled, activists who took action via webform would receive an email autoresponse, while activists who texted in their action would receive the mobile autoresponse. If a keyword is texted in and the mobile autoresponse is turned off, but email default is turned on and the activist has an email on file, they will receive the email. The mobile auto-response option will be unchecked by default.
Note: You should use an email address from a domain you control for the reply-to field, not @gmail.com or @yahoo.com or something similar, but rather @your-organization.org. If you use one of these common domains for your reply-to email address, we will replace it with info@actionnetwork.org in the from line of your email to ensure your emails are delivered to your activists. The reply-to email will still be the email you enter, so when activists hit reply the replies will still go to you.
To add a notification to your action, check the box under the "Notifications" heading at the bottom of the "Responses" tab and enter one or more email addresses, comma separated. After saving, every time an activist takes this action those email addresses will be notified with the information the activist entered, such as their name, email address, custom field data, etc... For event campaigns, you can be notified when a host creates a new event.