Table of contents
So you want to get started with mobile messaging, call campaigns, and Twilio? Great, you've come to the right spot! This guide will walk you through migrating to the mobile number and SMS opt-in core fields, setting up your Action Network group, and creating your first call campaigns and messages.
Before you get started… some FAQs
What is Twilio? Twilio powers your mobile messaging and call campaigns. They integrate with us to handle sending your mobile message and connecting calls, receiving replies from your activists, and purchasing and managing phone numbers. Don't worry, we set up your Twilio account for you.

Do I have to use the core fields for mobile messaging and call campaigns? Yes, yes you do. Custom fields will not work. More on the migration process in a bit.
Step 1. Sign up for a Mobile Messaging partnership.
In order to have mobile messages turned on your Action Network group, you need to sign up for the Mobile Messaging Add On. Give us a couple days to get it set up (please). You can sign up and find out pricing info here.
Once you make your payment on Chargebee, we'll set you up with your high-volume toll free number or short code and sending speed, depending on what you chose when you set up your partnership.
There's two types of numbers you can use — toll free numbers and short codes. There's differences between them, so let's break down which type is best for you:
Toll Free Numbers

Short Codes

10-digit toll free phone numbers

Starts at $0.40/month to lease from Twilio

Setup takes about 10 days

Good if you expect to send less than 200,000 messages per day

5 or 6 digit phone numbers

Can send an unlimited number of messages per day

Starts at $1000/month to lease from Twilio

Takes 3-6 months to apply for and receive access

Good if you expect to send more than 200,000 messages per day

Can be shared among groups that share branding, such as affiliates and c3/c4 organizations, more here
Regardless of which number you choose, we will pick the phone number for you and manage things on the Twilio side.
After you start a payment, we'll ask for your website, privacy policy/terms of service, and two sample messages you would send that include opt out language. These are required by Twilio and carriers to verify your number. The sooner you get these to us, the sooner you can send messages to your list!
Note that there is also a fee from telecoms based on your messaging volume, as well as your payment to Action Network. Both of these will be reflected on your monthly bill. More here.
If you choose 100 messages per second, we'll reach out to set you up with a short code and discuss your options. Otherwise, we can get you set up with a high-volume toll free number in about a week. You can always change your sending speed later on. Please be patient with us as we get you set up!
Note: If you're using our call campaigns tool, we can also set you up with a local number (a 10-digit number that starts with your preferred area code. Email us at support@actionnetwork.org to get that set up!
Step 2. Migrate to the core fields for mobile number and mobile messaging opt-ins.
While you're waiting on your partnership to get set up, migrate to the core fields. Twilio relies on the mobile number and SMS opt-in core fields to send messages and store activists. It is essential that you use our core fields, otherwise there's nothing for Twilio to connect to. Check out our guide here on how to migrate to the new core fields (there's a bonus dog at the end, so you should really take a look).
Step 3. Now that your partnership is set up, customize your messages
Twilio, by default, handles standard English and French language reply messages such as HELP/AIDE, INFO, STOP/ARRET, STOPALL, UNSUBSCRIBE, CANCEL, END, or QUIT in accordance with industry standards. If the activist's response matches one of these keywords, they will receive your default help or unsubscribe message. You can set custom Help Responses and Unsubscribe Responses in the box. It's a good practice to include multiple ways of getting in touch with you like email, phone, and text in the HELP message. All other responses will be filtered according to the process laid out in this document. If your group is using a shared short code in a network, only the top-level parent group will have these settings.
Note that this won't work for the first two business days after it has been set. We have to do some things on our end first!
Links are automatically shortened to actn.et/numbersandletters but you can set up custom (vanity) short links for an additional $200/month, more here.
Step: 4: Set up Text to Take Action
After you've set up your automated responses, you can begin creating mobile actions. Using Text to Take Action, people can sign a Petition, RSVP to an Event, or sign a Form. In all cases, action takers are subscribed to your mobile list, which allows you to grow your reach.
To create a signup form for your Mobile list, you follow the steps to create a regular Form here.
After you've created your Form, click 'Edit Keywords' at the top, under the title. Type the word that you'd like to appear as a keyword and add each individually to the list. The keywords are deduplicated across your group, are *not* case sensitive and you can have as many as you'd like. For example, someone could text "join" or "Join" or "JOIN" and all those keywords would work.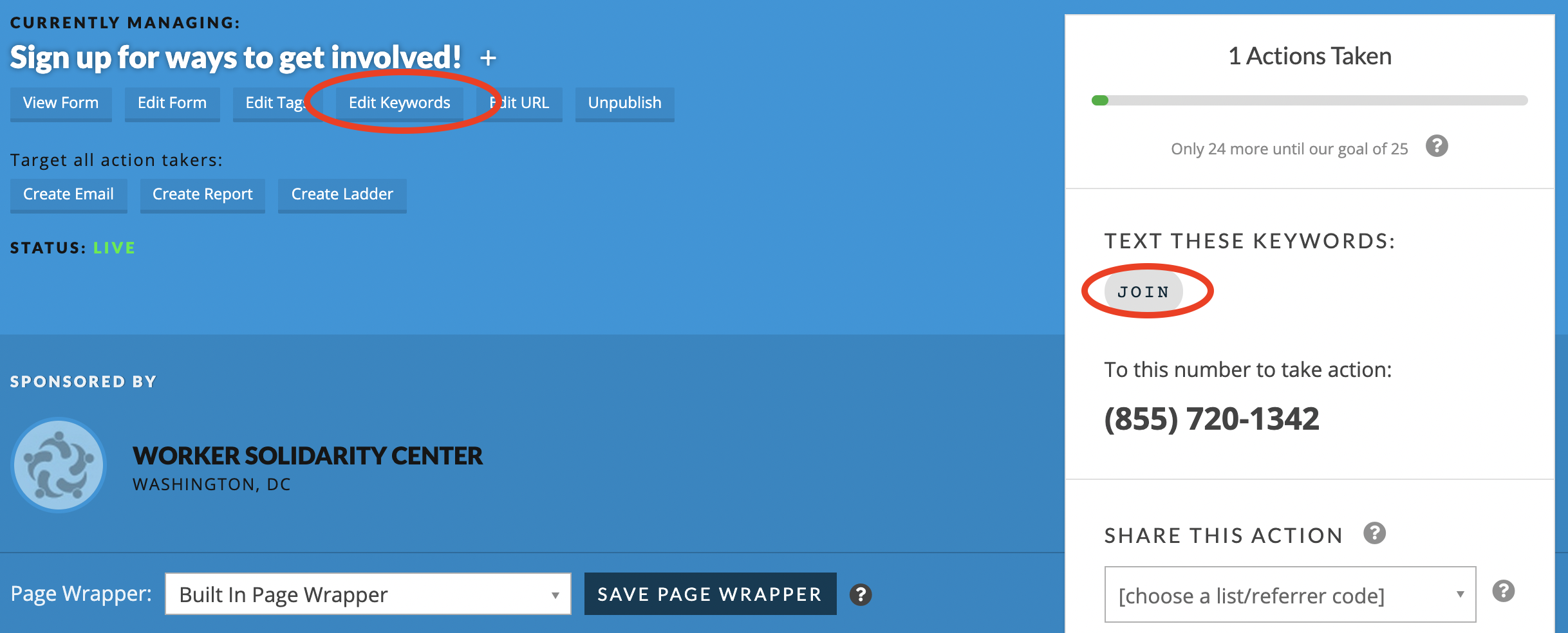 People can then text this keyword to your toll free number or short code in order to join your mobile list. When they text in your keyword, it's as though they took an action on the Form. You'll be able to share this on social media, your website, or anywhere else you'd like.
Step 5: Set up a Welcome Series
This step is legally required for short codes and optional, but highly recommended for toll free numbers.
Your final step is to create a welcome series for your new subscribers using our ladders tool. Ladders are an automated series of actions an activist goes through after they meet certain conditions, called triggers (like subscribing to your mobile list, taking a certain action, receiving a certain message, and more).
Your ladder trigger will be subscribed, then immediately be followed by a 'send a mobile message' action step. The mobile message should include the text "data and messaging rates may apply" and should also include how to opt out (example: "Reply STOP to quit.") We recommend something like "You will now receive text messages from Amy for Texas. Data and msg rates may apply. Reply STOP to quit." (Note that you should also remind your subscribers how to opt out at least once every 30 days, including opt out instructions with a message you are sending.)
Make sure to migrate your existing subscriptions before setting up the welcome series, so folks who have already been receiving mobile messages from you via another platform are not getting triggered into the ladder.
Here's a helpful doc that explains ladder components.

You're all set! Now you can write your first mobile message or call campaign.
More questions? Check out our FAQs.