Congratulations on becoming an Action Network partner! We're excited for you to join the hundreds of nonprofits, campaigns, and advocacy groups using Action Network tools to build progressive power. This Getting Started Guide will walk you through setting up your group, migrating your data, and creating your first actions and emails.
Before you get started...
First things first: sign up here to stay in the loop about trainings and receive important updates.
Then, watch our 3-minute video that shows you how to navigate Action Network. Please!
It's actually 2 minutes and 47 seconds long. See, Action Network is already saving you time!
Now let's get you set up on Action Network. And check out our Action Network Glossary if you get stuck on any terms!
1. Create your account
Create an account with your own name and email address and have your other team members do the same. Every administrator and organizer in your Action Network group should have their own account. Do not share login information. You can sign up or log in here. And be sure to set up 2-factor authentication for extra security!
2. Create a group

Groups are the fundamental organizing unit on Action Network. You need to create a group for your organization (if you haven't already). Your group is where you and your colleagues create actions, send emails, receive donations, and house your data.
To create your group, go to the Actions tab of the Start Organizing menu, click Groups, and follow the steps to on the screen. When you publish (publishing makes your group link live), you'll be taken to your Group Manage Page.
Now that you've created your group, use the Administrators tab on the group manage page to add other organizers and administrators and set their permissions. If you're not sure how to do that, watch our Navigating Action Network video at the top of this page. You can even use comma separated emails to invite multiple people at once. You can require 2-factor authentication for all administrators on the Settings tab of your Group Manage page.
Note: If you're using our Networks feature, which is not included in the standard Movement partnership, the first group you create should be the top-tier parent group in your network. You can add your child groups to the network later on, explained here.
3. Send us your group link. Get your partner privileges!
Please email partners@actionnetwork.org with your group link, which is the link to your group manage page. It looks something like this: https://actionnetwork.org/groups/my-super-great-test-group/manage
4. WAIT: Learn how data is stored
Before you migrate your list, let's take a minute to talk about how your group's data will be organized. This will make things easier in the long-run.
There are three ways to store and segment your data on activists.
Core fields.

Core fields are Action Network's built-in fields for activists. They are

first name, last name, email address, mobile number, street, city, state or province, zip/postal code, country, and language.

Don't make your own fields for this data, use ours (and make your life easier)! We already have questions built-in for the core fields too, so you should never create your own questions or custom fields for this data either (we'll get to questions later on).

Custom fields.

Use custom fields to keep track of other data you collect for an activist that will vary from person to person. For example, you could make custom fields for work number, contact preference, accessibility concerns, volunteer shift, or employer.

Tags.

Tags are applied to activists and are used to segment your list more broadly. You can easily target tags in reports and emails later on. For example, you could have a 'volunteer' tag for volunteers and tags like 'climate change' and 'health care' for different issues you work on.
5. Migrate your data
In Action Network, the people on your email and mobile list are called activists. If you're bringing over an existing email list, use our Upload feature to upload spreadsheets of your data. Make sure to save your spreadsheet as a CSV! Here's a short video tutorial on uploading a new email list.
Activists you upload will automatically be subscribed to your email list, but not automatically subscribed to your mobile list. To subscribe activists to your mobile list, you must check off the box to subscribe your activists to your mobile list, explained here.
Reminder: Your list must be 100% opted-in to receive emails and mobile messages from you. If you have questions about what this means, please contact us.
What data is required to upload?

What data is optional to upload?

Email addresses or mobile number for all activists

Country (if not in US, see below)



I'm a group located outside the US. Is there anything special I need to do?
Yes! Include the two-digit country code in the 'Country' column of your uploads for all activists. Both letters in the country code must be capitalized. Any activist uploaded without a country code will default to the US or to whatever default country you've set in for your group.

Aside from this, there's a few other things to keep in mind if you are a partner outside of the US, including fundraising and GDPR. Check out some

FAQs for international partners here.
Running into issues? More information on uploading your list is available here.
6. Create an email wrapper or layout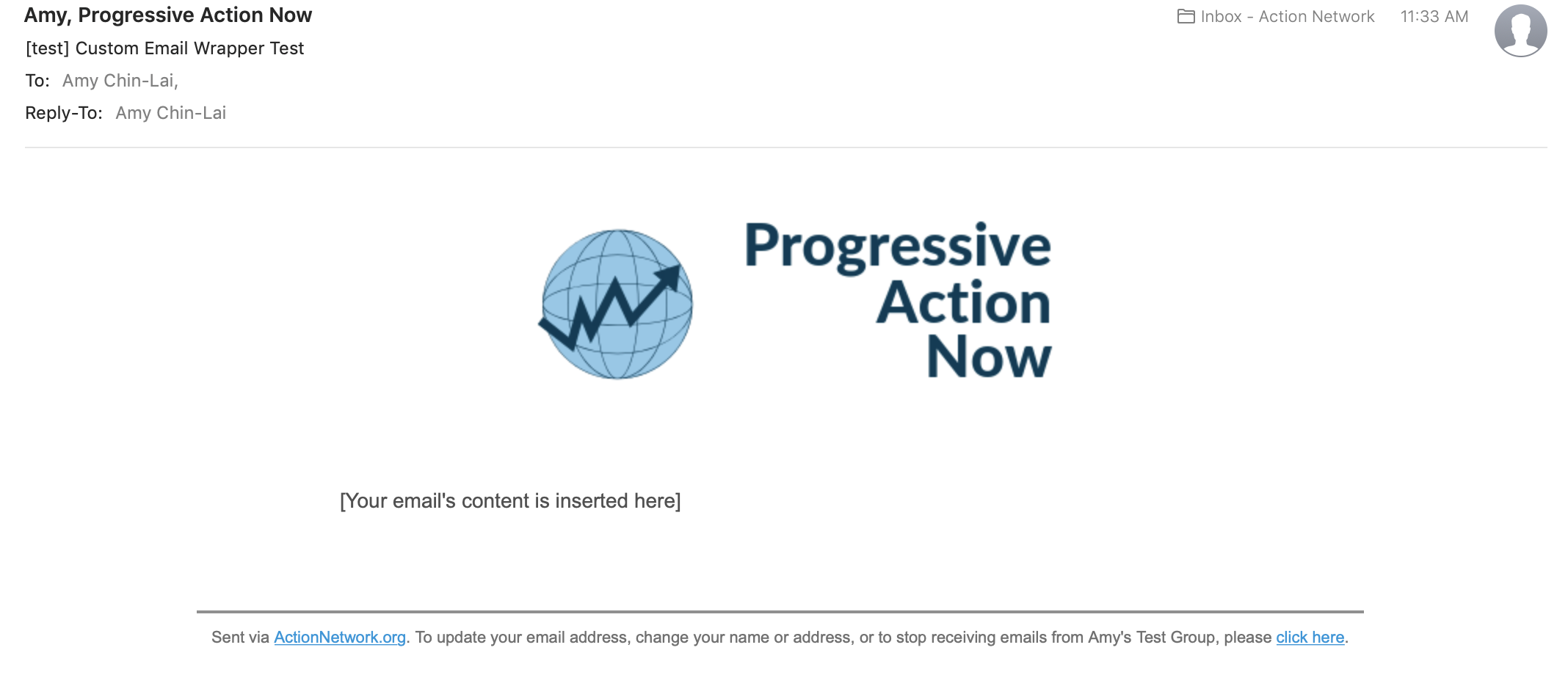 Email wrappers or layouts let you send emails with your own branding. You can either code your wrapper or auto-generate it, or use the layout builder to build out a template. All you need is an image! Any images you use should be a maximum of 400px wide. Make sure to remove the "from suffix" (the via ActionNetwork.org) when you make your email wrapper
If you're coding your email wrapper, check out our design tips.
To create your email wrapper or layout, go to the Details tab of the Start Organizing menu and click Email Wrappers & Layouts. Here's a helpful video tutorial that walks you through creating an email wrapper.
7. Create a page wrapper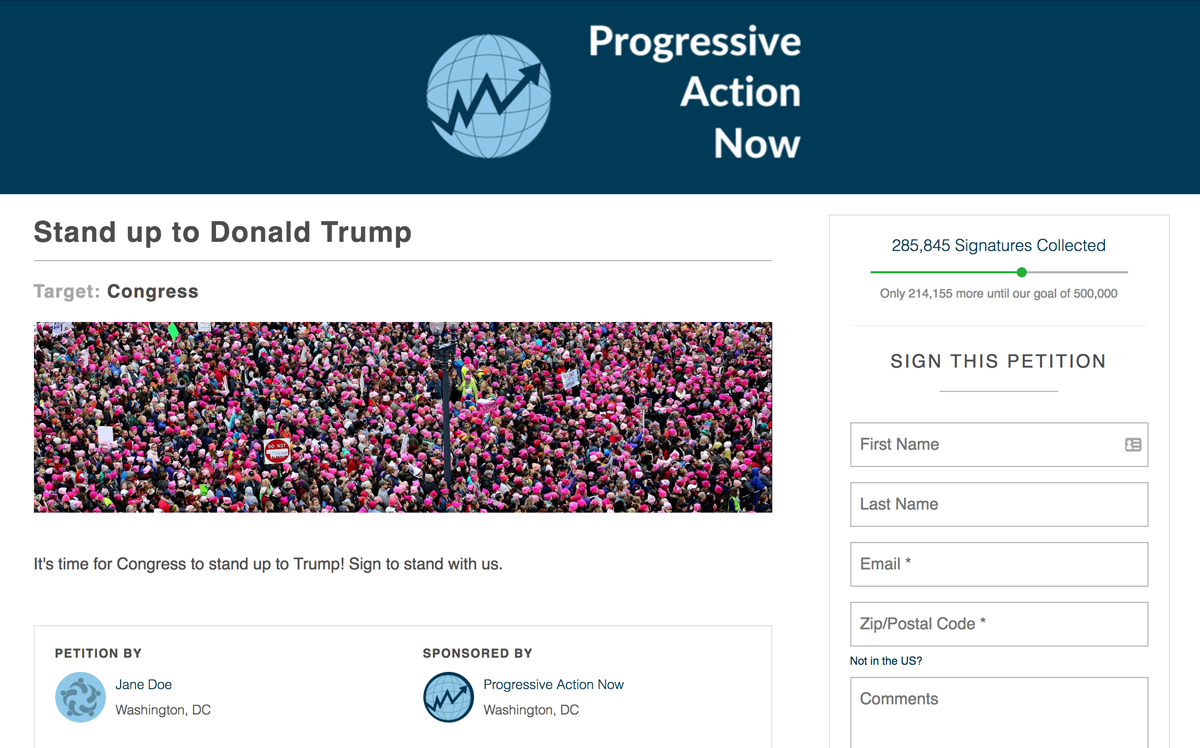 Every action (petitions, letter campaigns, events, forms, and fundraisers) you create on Action Network will generate a new page on our site and an embed code (a widget) so that you can put the action on your own site.
A page wrapper "wraps" your action on Action Network in your own branding and colors. Create a page wrapper by going to the Details tab of the Start Organizing menu and click Page Wrappers. Like email wrappers, you can auto-generate a page wrapper or hard code one. If you auto-generate your page wrapper, you'll be able to choose a layout for your form and description on the action page.
When you auto-generate a wrapper, you'll be prompted to select an image (we recommend no wider than 400px) and two colors. The header color is at the top, behind your image. The accent color is for buttons, links, and the progress bar. Do not choose white as your accent color.
Here's a video tutorial that guides you through the process of auto-generating a page wrapper.
Check out our tips for customizing page wrappers and widgets.
8. Create your first action
Now you're ready to create actions and send out emails using the Action Network! If you have existing forms on your website, like a sign-up form, you may want to start by replacing those with actions you've made on Action Network.
There are six types of actions you can create from the Actions tab in the Start Organizing menu:
Petitions, which let you send a lot of signatures to a target at once
Letter campaigns, which let your activists send customized letters to targets one-by-one
Most of our actions share similar features, which is important to know when customizing your actions. Click here to check out all of those awesome elements, like changing the default social media sharing language and auto-response email content.
We automatically add some questions to your actions, like first name, last name, email address, country, and zip code (remember core fields?). But you can create more questions using the built-in form builder on all of our actions.
If you are going to add the same questions over and over (like phone number), you should build the questions in advance and insert them into your action with one (well, three) clicks.
9. WAIT: Validate your domain
We value your email deliverability and know it's imperative to your work. Because of this, we want you to understand how your emails get delivered and improve your deliverability rates. We highly encourage (but don't require) you to authenticate the domain you send from. If you're not sure what this means (or need a quick refresher), we broke DKIM and SPF down for you! Read more about domain authentication here.
Get your own domain name, if you don't have one already. We use Namecheap, but there are many others, including HostGator, GoDaddy, and Dreamhost, just to name a few.

Once you get your own domain, email us at support@actionnetwork.org and tell us what email address you use for your reply-to.

We will send your domain to SendGrid, which delivers our emails. SendGrid will give us your public key. We will give the public key to you.

You add the public key (text records) to your DNS records. If you're not sure how to do that, look at the end of this document, there are links to help documents for many different domain-hosting websites.

Email us when you've added the text records to your DNS records. We will verify that you did this correctly.

Use that domain in all of your reply-tos
Not sure what any of this jargon means? Read more here.
10. Send your first email
You've uploaded your activists, created an email wrapper, and validated your domain - now you're ready to send out your first email. Check out our email send checklist for tips and resources. And remember to test your emails.
For more information on writing and targeting your emails, check out these help docs.
11. Bonus: Set up a welcome series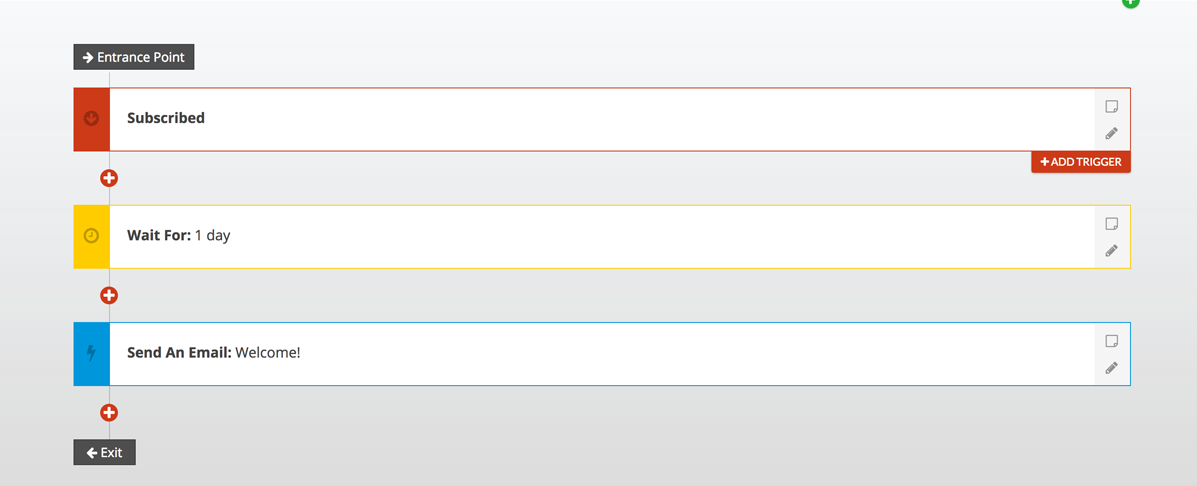 Feeling confident with Action Network? Awesome! As a bonus, we suggest creating a welcome series for your ~ new ~ subscribers with our Ladders tool. Ladders are an automated series of actions an activist goes through if they meet certain conditions, called triggers (like subscribing to your list, taking a certain action, receiving a certain email, and more).
A great first step is to create a welcome series, explained here. Make sure to migrate your list before setting up the welcome series, so folks who have already been getting emails from you are not triggered into this ladder.
Here's a helpful doc that explains ladder components.
12. Set up mobile messaging
Are you using Action Network for mobile messaging or call campaigns? Check out our getting started guide for mobile messages here.
13. All done!
YAS! Email support@actionnetwork.org with any technical questions going forward. Our team will get back to you, and we do our best to respond within an hour (often within minutes) on business days, 9am-5pm ET. Please send links and screenshots to anything you have a question about (please, please send the links!).
If you have any questions about your partnership or billing, please check out our partnership FAQs.
Make sure to sign up for our list to receive training updates, release notes, and the occasional cute animal gif.
As your reward for making it to the end of this guide....